a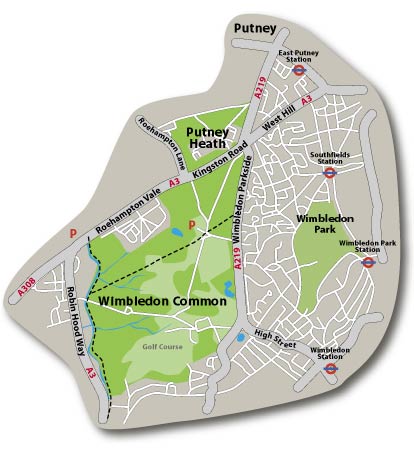 Kingston upon Thames/Merton/Wandsworth – TQ 726 220 – 460 ha Tel: 020 8788 7655
Half of all London's heathland, the largest area by far, is shared between Wimbledon Common and Putney Heath. In circumstances repeated at other London heaths and commons the two sites were only secured for the public in 1871, after a long legal battle with the Lord of the Manor who wanted to enclose the common and sell off land for building. Together with Putney Lower Common, they are now managed for the benefit of local people, informal recreation and the preservation of our natural flora and fauna.
In the 18th Century, the wild expanse of Putney Heath was a very dangerous place, favoured by duellists and highwaymen. A hundred years later, before relocating to its more famous home at Bisley in 1869 - the National Rifle Association had its headquarters on Wimbledon Common.
Both sites hold an important place in railway and aviation history, with some of the earliest pioneering experiments being conducted in their wide, open expanse; including the ill-fated, 1912 attempt to fly the flapping Passat's Ornithopter. Today, the contrasting wet and dry areas support a wealth of wildlife. Birds include linnet, stonechat and hobby and 129 species of fungi were observed in 2001 alone. The wettest areas, such as Farm Bog, contain bog mosses and other plants rare in London. Bog-bean, bulbous rush, oval sedge, star sedge, water horsetail, alder buckthorn, marsh pennywort and lesser skullcap all occur here, whilst the black darter is a notable dragonfly.
An information centre, the windmill, museum and tearooms are added attractions and it is possible to wander for hours between different heathland, grassland and wooded areas. The Windmill Trail is suited to wheelchair access but boots are advisable elsewhere during the wetter months.
Getting there